After the NRA's recent public relations blunder in regard to doctor's staying in "their lane", there has been a huge negative backlash from the medical community. Unfortunately, much of that backlash has been little more than emotional venting that should've been directed at the NRA, but was broadly aimed at all American Gun Owners. As we know, less than 10% of American gun owners are Members of the NRA and only a portion of those members actively support the organization. Thankfully, many responsibly armed Americans have condemned the NRA for dismissing the value of America's Health Care Professionals who deal with the aftermath of gun injuries every day.

There are a few important pieces of media that have come out over the past week that rise above the rhetoric from either side of the gun control issue tagged with #stayinyourlane or #thisismylane. The first one was an NPR story that documented just how poorly doctors and nurses are prepared to deal with trauma. The article reveals some of why there was such a backlash against the NRA's tweet. It is easy to see how the emotional responses came out towards guns and gun owners from stressed trauma surgeons & emergency room nurses suffering from emotional aftermath that they haven't really been prepared for and for which there are few (if any) resources being dedicated to. Trauma Mitigation is an area that needs more attention across our country for all first responders, armed professionals and health care providers. It is important to remember that many guns are primarily designed for defensive use. When these guns are used properly to defend human life, the physical effects on the body of the threat that was stopped may still cause trauma in the health care world. A world based on the principle of not causing harm. a principle directly at odds with the necessity to sometimes cause harm in order to protect others.

Another important piece of media that has come to our attention was from "ZdoggMD",  . Zubin Damania has built a following talking about various medical issues in a social media savvy way under his Zdogg moniker from his home base in Las Vegas. He's a very articulate social commentator who grew up with guns and obviously has some well developed opinions about them that existed prior to the frenzy of the NRA's recent miss step. In addition to talking about growing up with guns, he covers a brief history of guns in our country and references a well written piece by Sam Harris from many years ago, The Riddle of the Gun, which Damania advises anyone who is vehemently anti-gun to read. It is clear that Dr. Damania is himself not anti-gun and he spends a fair amount of time in his video explaining gun rights and gun ownership, along with the reality that guns aren't going away regardless of what anyone might want. After having covered both the emotional and rational responses to the gun debate, he gets to his most important point… one that truly is clearly inside of his lane and that of every medical professional, first responder or would-be self-defender: Emergency Medical Response in the aftermath of violence.
Damania rises above the rhetoric to talk about the Stop the Bleed Program.The program has been pushed for several years to remind people that bystanders can save lives in the minutes after an spree killing, terrorist attack, natural disaster or any catastrophe resulting in traumatic injuries with severe blood loss. Damania talks through the initial steps of controlling massive blood loss with or without a tourniquet. You should absolutely watch this video... more than once… and share it with friends.  You can also share Damania's Page which includes the video and links to some great resources.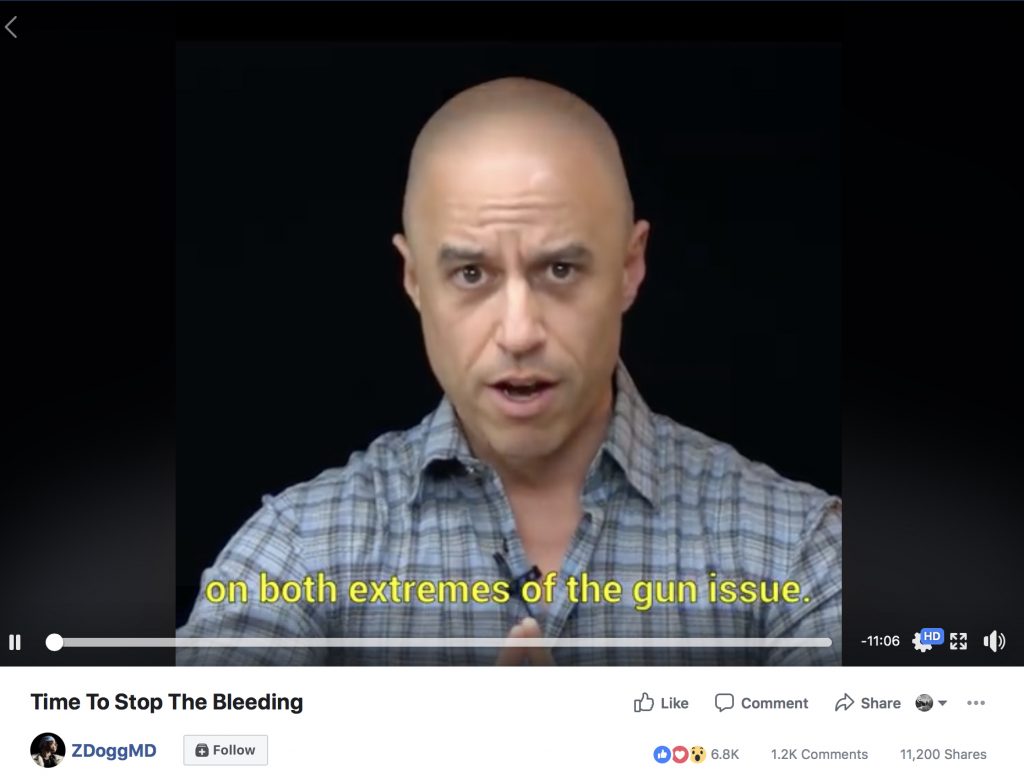 As Second Amendment Advocates, let's take this time to think about we can be better ambassadors for our community, find allies to work with outside our our most dedicated ranks and remember that our interest in being prepared for personal defense, which ultimately leads one to be armed and trained in the used of their firearm, means more than just being prepared to shoot someone to protect what we love, it should also mean being prepared to save a life.
-RJP
Please follow and like us: