The final rule banning bump stocks was published into the Federal Register this morning. You can read more about it at the Prince Law Offices Blog. 2AO believes that the best chance we have to see a Court intervene before the ban goes into effect on March 26th, 2019 is the lawsuit being handled by the Prince Law Firm for Firearms Policy Coalition.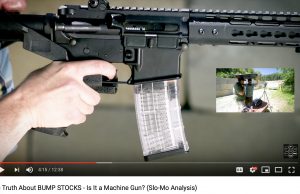 The Rule, I believe erroneously, classifies Bump Stocks & similar devices as "Machine Guns" and makes their possession illegal for those who have previously taken possession of them. There are strong grounds for the case to be heard and for action to be taken by a court, but there are things you can do to influence the situation as well. Read about the options you have in This Article.  They include contacting the NRA, your Congressmen, supporting FPC's Suit financially and educating those in your community about the issue. If you are new to this issue and need to get a better understanding of the Bump Stock Ban, check out this video.
This fight is not over, there is still time for you to act. This final rule banning bump stocks leaves a 90 day window for the rule to be changed, rescinded or overruled by the courts… as it should be. Our gun rights are infringed by hundreds of unjust gun laws across our Country at the Local, State and Federal Level. You can learn more about these infringements and Second Amendment Organization's positions on them at gunrights.info.
-Rob Pincus
[As Always, if you are finding value in the work of 2AO, SHARE and REPOST this article. LIKE & FOLLOW our social media at Facebook, Twitter and Instagram. Also, sign up to receive emails from us and consider making a donation to support our work.]
Please follow and like us: