A new magazine capacity restriction goes into effect today in New Jersey. The internet is on fire with cries of people, including many gun owners not in New Jersey, criticizing the law as unjust, unconstitutional, meaningless, unfair and worse. What is missing is much real practical advice for New Jersey Gun Owners. What should they do now? What should they do with magazines that have a capacity of over 10 rounds?
Unfortunately, while the law may eventually be found unjust and overturned, today it is the law. Second Amendment Organization is a staunch advocate of Gun Rights, but those rights are defined by our laws. We believe it is imperative that Responsible Gun Owners follow the law. In this case, that means the New Jersey Gun Owners should comply with the law… and fight it! Part of fighting it involved educating people about why these types of laws have little or no effect in regard to saving lives and why people might want or need large capacity magazines in the first place. 2AO is staunchly against magazine capacity restrictions, as stated in this set of Position Statements. Recommending that New Jersey residents comply with the law is not "compromise," it is accepting the current reality.
Meanwhile, the Association of New Jersey Rifle and Pistol Clubs has posted an outstanding article that explains the law goes over the seven compliance options in detail. Those options are:
1. VOLUNTARY SURRENDER
2. RENDER INOPERABLE
3. PERMANENTLY MODIFY TO 10 ROUNDS MAX CAPACITY
4. LAWFUL SALE OR TRANSFER
5. STORAGE OF NON-COMPLIANT MAGAZINES INSIDE NJ
6. STORAGE OF NON-COMPLIANT MAGAZINES OUTSIDE OF NJ
They also offer some guidance on how to manage shipping the magazines in their article without running afoul of the laws, although it may be too late for that as of this morning.
SC Arms in Spotswood, NJ is one of many FFLs in the State who have been modifying magazines to be in compliance:
 S.C. Arms has been taking in 15,20,30 round magazines to make them NJ Compliant. This Process involves Disassembling magazines by removing the internal parts and fitting them with a universal block preventing the follower from accepting more then 10 rounds. This Process applies to all magazine types weather metal or polymer.
Alexander Roubian, of the New Jersey Second Amendment Society, had this to say as the ban went into effect:
"We recommend not destroying their legally-owned standard capacity magazines and store them with friends and family that live in a state that they are not banned. We are launching a campaign to urge the United States Supreme Court to take up a magazine capacity lawsuit and we are confident the Supreme Court will overturn this ridiculous law that does nothing for public safety and only affects law-abiding citizens."
Tony Simon, well known gun rights activities in New Jersey who runs Diversityshoot.com offered this advice on December 11th:
"Obviously comply with the new law. Their mags should have been blocked already if not get them to a FFL today for storage until you can get them blocked."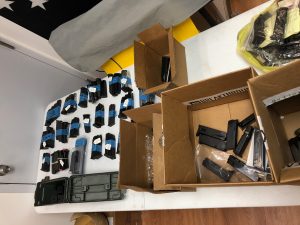 Meanwhile, as community leaders echo each other's sentiments on of the importance of not becoming felons and risk losing all of your gun rights, serving jail time and paying fines along with all of the other possible negative ramifications of violating the new law, Social Media is full of people publicly stating that they intend to not comply and of calls for "Civil Disobedience". We at 2AO would respect the intention and actions of anyone actually performing true civil disobedience. A group or individual heading to a gun range in New Jersey this afternoon with standard magazines of a capacity greater than 10 rounds and publicly, proudly and overtly using them as a public act of protest, for example. Obviously, those persons would be risking arrest but they would also obviously be following in the footsteps of other great Civil Rights Protesters. Sneakily keeping magazines with a capacity greater than 10 rounds in your home and hoping you never get caught is not Civil Disobedience, it's just being a criminal.
Civil disobedience is the active, professed refusal of a citizen to obey certain laws, demands, orders or commands of a government or occupying international power.
The concepts of "active" and "professed" in this case generally don't include simply posting a Facebook comment that "I tragically dropped all my high capacity magazines in a lake last week" with a winky face. We have no doubt that this law will continue to be challenged and believe that it, along with many other NJ Gun Restrictions are unconstitutional, but they are the law today. All gun owners in the US should be reminded today that the time to fight is long before the laws go into effect. The place to fight is in town halls at the ballot box and in the offices of our legislators and other elected officials. We not only need to be more organized and outspoken as a community, we also need educated and articulate grass roots advocates talking to those in their communities who are neutral on gun issues or even who lean pro gun control to bring them over to an understanding of our gun rights as a civil right that must be protected and can be exercised responsibly. Protecting these rights includes fighting against magazine capacity restrictions.
-Rob Pincus
Please follow and like us: