The First Gun Maker's Match was held on June 19th, 2021 at Ancient City Shooting Range in St. Augustine, Florida and it was a huge success. The sold out event was put on by Guns For Everyone National with technical support from the AWCY? 3D Printing Community. Pariticipants from over two dozen States spent the day at ACSR enjoying the hobby of private gun making. Competitors shot in seven events, three for kit built guns and four for 3D Printed Guns. I helped to organize this event with volunteers from both organizations.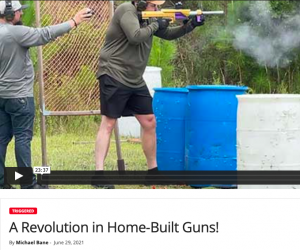 Amidst attacks on private gun making and fear mongering from the media and politicians about so called Ghost Guns, this event sought to show gun makers and gun making in the positive light they deserve. Building one's own guns is a legal activity in almost every part of our country and the practice has a long  tradition of innovation and craftsmanship.
The event was sponsored by many well known names in the gun community, including:
Brownells, Firearms Policy Coalition and Gun Owners of America. The company that has mainstreamed kit gun building over the past few years, Polymer80, was also a top level sponsor, along with JSD Supply, one of the biggest parts & kit retailers serving the gun making community. Cody Wilson, the man who launched interest in 3D Gun Printing, attended the event and addressed the crowd, reminding them that gun making is a vital freedom activity. Both DEFCAD.com and Ghost Gunner were also sponsors.
Prizes were awarded in pistol, rifle and braced pistol / PCC categories as well as in a special "fully printed" side match. JSD Supply also conducted a People's Choice competition where Darren "Derwood" Booth, one of the 3D Printing Communities leading designers, won the most support. Matt Abrams was the High Overall Shooter and event champion.
The Second Annual Gun Maker's Match has been announced for March 19th, in St. Augustine and GFEN says that they intend to hold regional events as well throughout the year. Learn more about the competition at gunmakersmatch.com, where you can also register to compete! Media related to the event has been collected at the GMM Blog.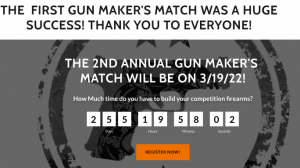 Second Amendment Organization is proud to support this event and is excited to see gun makers in this positive light!